Lidl Ireland has installed a « reverse vending machine » in one of its stores that will pay customers 10 cents in a coupon for each recycled plastic bottle or aluminum can.
The maximum voucher is 2 euros.
The machine, which can process up to 17,000 units per week and is located in Lidl's Glenageary in Dublin, is the first such machine to be installed in a retail environment.
It is part of a « deposit and return scheme » trial by the company ahead of the government's mandatory national scheme expected to be operational by 2023.
The Ministry of Environment, Climate and Communications is due to publish final details of how the national scheme will operate by the end of September.
The high-tech machine that Lidl launched at Glenageary today will accept empty cans and bottles from any retailer.
However, during the duration of the route, only coupons cashed in Lidl stores can be redeemed.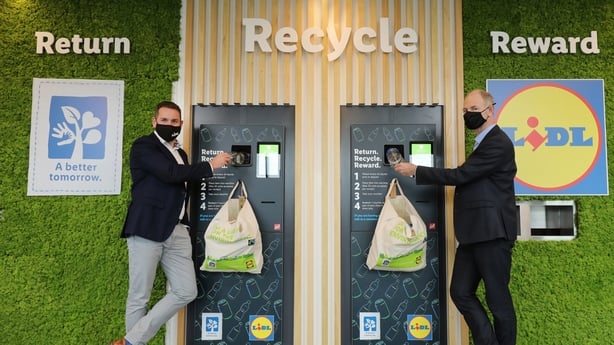 It is expected that when the national scheme is operating at full capacity, a 20-cent deposit will be added to the cost of all beverages sold in cans and plastic bottles nationwide.
Customers will then have to return their empty bottles and cans to a reverse vending machine or similar station to get their deposit back.
The exact details of where and how to facilitate this are currently being finalized by producers, retailers and the government before designating a legal entity that will manage the national scheme.
The requirement to switch to a deposit and return scheme for beverage containers has been deemed necessary due to new and highly demanding EU targets for recycling plastic bottles and aluminum cans as part of the so-called « circular economy ».
For example, products made from recycled aluminum use 95% less energy than those made from virgin aluminum.
Ireland's new goal is to recycle 77% of all aluminum and plastic beverage containers by 2025, rising to 90% by 2030.
Lidl Ireland said its plan, when fully rolled out, aims to redirect 1,500 tonnes of plastic annually from its 170 stores alone.
This plastic, when recycled, will then be made into new products.
The Minister for Environment, Climate and Communications, Eamonn Ryan, said a successful national deposit and return scheme would not only help Ireland reach its ambitious recycling and litter reduction targets, but would also foster the behavioral changes we would need to transition to a circular economy.
Lidl Ireland is committed to eliminating all black, non-recyclable plastic from its private label products by the end of this year and has committed to becoming a carbon neutral company by 2025.
« Spécialiste de la télévision sans vergogne. Pionnier des zombies inconditionnels. Résolveur de problèmes d'une humilité exaspérante. »