Ryanair is ramping up its operations ahead of the summer, announcing its largest ever flight schedule out of Dublin airport.
In total the airline will run 900 flights a week to 120 destinations through the summer season, an increase of 22 routes compared with summer of 2019.
The recovery in traffic will result in the basing of a 33rd Ryanair aircraft in Dublin, which the carrier says will result in the creation of 30 new roles.
The growth is in part being driven by the Government backed Travel Recovery Support Scheme, which is being operated by Dublin and Cork airport operator daa.
The €90m in funding is being used to offer incentives to airlines to rebuild capacity and add routes in and out of the country's airports, through lower passenger charges where promised growth is delivered.
However, as it grows capacity, Ryanair says the TRSS scheme must be at a minimum extended by the Government until the winter season of 2022/23.
This, it claims, will ensure that capacity for tourist visits to Ireland, particularly after the summer in the quieter shoulder period, is secured.
Ryanair chief executive Eddie Wilson said the scheme had given Ryanair the confidence to invest in rebuilding its operations out of Dublin.
« The daa scheme will ensure airport charges are competitively priced versus other EU countries this summer, and Ryanair has responded by launching its largest ever investment in aircraft, connections and jobs at Dublin airport, » he said.
We need your consent to load this rte-player contentWe use rte-player to manage extra content that can set cookies on your device and collect data about your activity. Please review their details and accept them to load the content.Manage Preferences
Ryanair's plans have been welcomed by the daa.
"Government funding announced in Budget 2022 has allowed daa to offer additional attractive incentives to our airline partners to rebuild international connectivity from Dublin Airport and this investment by Ryanair for the busy summer season ahead is restatement to that," said Dalton Philips, CEO of the daa .
He added though that he'd be making representations to Government for more funding to carry the airports through next winter.
We need your consent to load this rte-player contentWe use rte-player to manage extra content that can set cookies on your device and collect data about your activity. Please review their details and accept them to load the content.Manage Preferences
However, a spokesperson for the Department of Transport said whether or not the scheme can be extended beyond the summer would depend on the level of uptake and the remaining funding available.
"Government funding of €160m to our airports in recent months including over €97m to Dublin Airport has put daa in a position to offer attractive incentives to their airline partners and this announcement by Ryanair represents the fruits of that," said the Minister at State at the Department of Transport, Hildegarde Naughton.
« The restoration and growth of the route network out of Dublin Airport this summer is welcome news as we rebuild the international connectivity stymied by the global pandemic. »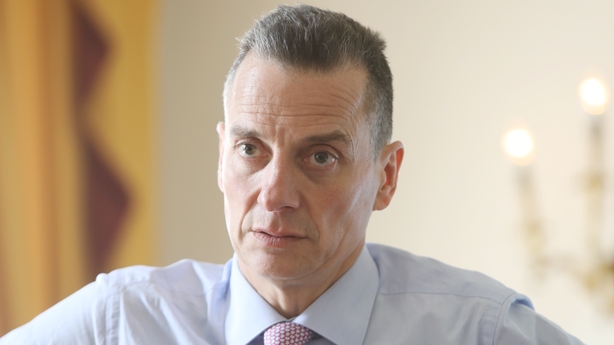 Mr Philips said that by the summer, passenger levels at Dublin airport could be back to between 70% and 85% of pre-pandemic levels.
« This is strong levels of recovery, » Mr Philips said.
« We'll be connected to over 200 cities. Pre-pandemic we were connected to 190. We'll have 52 airlines this summer. Pre-pandemic we had 50. »
« So it feels like the tide is really shifted now and people are saying no, we want to travel, it is safe to travel and we are providing that connectivity. »
But Mr Philips said the daa would be looking very carefully at any changes to restrictions as they were announced over the next two weeks.
« Because the capacity in the terminals had been reduced by 70% because of all the social-distancing, » he said.
« So if we are going back to a more normalized summer where we are going to see 100,000 passengers going through Terminal 1, Terminal 2 a day, we are obviously going to have to look at those restrictions and clearly that is something we are going to have to do in conjunction with the HSE guidelines. »
In relation to Cork Airport, Mr Philips said there is lots of interest in it. He said it won't quite be back to the pre-pandemic level of destinations which was 50, but it is back to around 35.
Despite the growth in Ryanair capacity, other airlines are still operating at lower levels than they were before the pandemic.
As a result of that, coupled with high demand, Mr Wilson predicted that air fares across Europe are only going to rise.
The Ryanair boss also said he is hopeful that remaining travel restrictions will be lifted.
He said the difficulty has been testing at destinations, but that is gradually being lifted across Europe.
« Primarily for those who have got their booster, there should be no reason why they cannot travel, » he claimed.
Mr Wilson said he agreed with his boss, Ryanair Group CEO, Michael O'Leary's view that only those who are fully vaccinated should be allowed to travel by air.
« The vast majority of people have taken the sensible precaution of getting a booster…and the anecdotal evidence is that those that are in ICU are people who have not been vaccinated or haven't had their booster, » he said.
« And I think we should make it easier for those people who are vaccinated or boosted to travel and I think that would be welcomed by everybody on board aircraft. »
Meanwhile, the Ryanair announcement of its expansion at Dublin airport has been welcomed by Tourism Ireland.
« As an island, the importance of convenient, direct, non-stop flights cannot be overstated – they are absolutely critical to achieving growth in inbound tourism, » said CEO, Niall Gibbons.
« Today's announcement by Ryanair and Dublin Airport is really positive and augurs well for the return of growth in overseas tourism to Ireland in 2022 and beyond. »
« Spécialiste de la télévision sans vergogne. Pionnier des zombies inconditionnels. Résolveur de problèmes d'une humilité exaspérante. »