Blackouts in China, chaos at petrol stations in Britain, factory closures in Germany – supply chain problems around the world threaten to trigger a global recovery as countries try to emerge from the recession caused by the pandemic.
This week has seen a number of examples of supply chain issues currently holding back economic activity around the world – China ran out of coal for its power plants; The UK did not have enough truck drivers to take gasoline to the fuel pumps; Gas prices are rising across Europe as demand exceeds supply.
"The danger is that even though economies reopen, growth slows because we cannot produce the things that people demand," said Niclas Poitier, a researcher at the Bruegel Institute in Brussels.
The difficulties are already visible in the economic data: Chinese manufacturing activity contracted in September for the first time since the beginning of the year.
In France, manufacturing activity fell to its lowest level since the beginning of 2021. In Japan, industrial production fell in August for the second month in a row.
Companies find it difficult to get the raw materials and components they need to keep production lines running.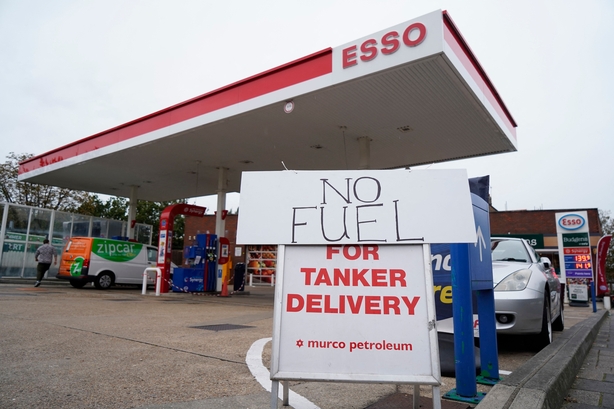 The automobile industry, for example, suffers from an acute shortage of semiconductors – electronic chips without which their models cannot function.
Japanese giant Toyota slashed its production forecast last month, and Stellantis said it would have to halt production at its German plant subsidiary Opel until the beginning of next year.
The industry is set to lose $210 billion in revenue this year, double what was forecast at the start of the year, according to consultancy Alex Partners.
Similarly, the textiles industry has found itself exposed – Swedish giant H&M complained of « disruption and delays in product supplies » in September.
Furniture maker IKEA has announced that it will not be able to offer some of its core products due to a shortage of transport staff and high prices for raw materials.
Shipping costs between China and the US west coast have risen more than fivefold over the year as a result of pressures arising from the post-pandemic recovery, according to Freightos Baltic.
"The interdependence of the global container industry makes it difficult for the industry to adapt quickly enough to these large supply shocks," said Jacob Kierkegaard, of the Peterson Institute for International Economics (PIIE) in Washington.
But he told AFP that the supply chain problems would likely just be « a delay in the recovery. I don't expect a negative shock to be big enough for a double-dip recession. »
Mr. Poitier at Bruegel also believes that « many of these problems will be resolved in the medium term ».
US Federal Reserve Chairman Jerome Powell warned that bottlenecks and hiring difficulties could be « bigger and more permanent than anticipated ».
For now, however, experts say, it's the coronavirus that will continue to decide.
"In the UK and Europe, we are talking as if the pandemic is over," said Frances Coppola, author of the Coppola Comment financial blog.
« Global trade cannot return to normal while we still have countries where people are dying from Covid, » he wrote.
« Spécialiste de la télévision sans vergogne. Pionnier des zombies inconditionnels. Résolveur de problèmes d'une humilité exaspérante. »