US airlines have canceled hundreds of flights on Christmas Eve amid a surge in Covid-19 infections but millions of Americans are continuing their travel plans.
Both United Airlines and Delta Air Lines have canceled dozens of flights due to staff shortages amid a surge in Omicron-type infections from Covid-19.
Delta has canceled 138 flights and United Airlines has canceled 170, while more than 2,000 flights in and out of the United States have been cancelled.
The two airlines said they will work to contact passengers so that they are not stranded at airports.
"The rise in Omicron cases nationwide this week has had a direct impact on our flight crews and the people running our operations. As a result, we have unfortunately had to cancel some flights and notify affected customers in advance that they are coming to United," United said.
Delta said it had « exhausted all options and resources » that included rerouting and replacing planes and crews to cover scheduled flights, before the flights were canceled.
But with the majority of flights still going, American passengers put aside their concerns about contagion and continued with their plans.
Passengers reported that their "only desire to get out of the house" and their unwillingness to miss arrangements were the reason for their travel.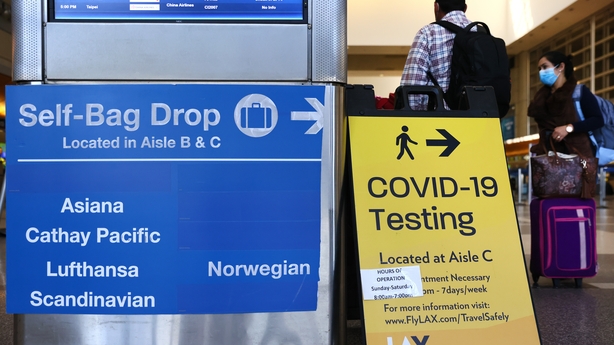 Covid-19 infections in the US have surged in recent days due to Omicron, and the new variant now accounts for more than half of US cases and up to 90% of total cases in some areas.
U.S. health officials have said that fully vaccinated people should feel comfortable continuing to travel on vacation and family gatherings, but have warned those who are not vaccinated they are at greater risk of becoming seriously ill or dying from the virus.
Delta cited possible inclement weather and the effect of the Omicron variable for cancellations.
On Tuesday, Delta CEO Ed Bastian asked the head of the US Centers for Disease Control and Prevention (CDC) to scale back quarantine guidelines for fully vaccinated individuals with COVID-19 infections, citing the impact on the company's workforce.
Bastian requested that the isolation period be cut to five days from the current 10.
That request was echoed by both Airlines for America, a trade group representing major cargo and passenger carriers, which wrote to the CDC on Thursday, and by JetBlue on Wednesday.
The CDC issued updated quarantine guidelines for health care workers Thursday, reducing isolation time to seven days for workers who have tested positive for Covid-19 but are not showing symptoms, provided they test negative.
« Spécialiste de la télévision sans vergogne. Pionnier des zombies inconditionnels. Résolveur de problèmes d'une humilité exaspérante. »